Get your FCC Amateur Ham Radio
License in a Weekend
November 13 & 14, 2021 – 8 AM to 4 PM
---
WHAT CAN YOU DO WITH
AN AMATEUR RADIO LICENSE?
Talk Around The World (without wires or the internet)
Use The Original Wireless Technology – Morse Code (CW) Voice or Digital
Talk With Astronauts On Board The ISS Or Bounce Signals Off Of The Satellites
Talk With Other Amateurs around the area or across the country
Help Your Community In Times Of Emergency Using Your Amateur Radio
Countless ways to experience the hobby PLUS learn about electronics, computers and more!
HOW CAN YOU DO ALL THIS?
You just need a Technician Class amateur radio license, granted by the Federal Communications Commission (the FCC)
HOW DO YOU GET THE LICENSE?
You must pass a test, which we will help prepare you for, so that you can earn your FCC Amateur Radio License.
HOW CAN YOU PASS THE TEST?
ATTEND OUR TWO-DAY CLASS and examination session on
Saturday, November 13th & Sunday, November 14th from 8am to 4pm (both days)
You can walk out a licensed radio amateur!
---
We encourage you to explore and learn before the
weekend training, to be better prepared for the class.
The suggested resource is the Ham Radio License Manuel
published by the ARRL –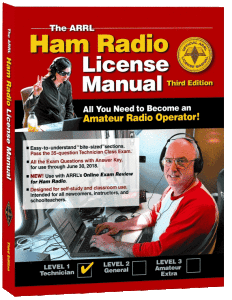 Here are two online links for obtaining the book –
www.arrl.org/ham-radio-license-manual
http://www.amazon.com/ARRL-Ham-Radio-License-Manual
---
The class is FREE; there is a $14 exam fee
(required by our national amateur radio testing service – W5YI Group in conjunction with the ARRL VE Testing Program)
Class meets in the basement meeting room at:
Elmhurst Fire Station #1
404 N York Street
Elmhurst, IL 60126
There will be a short break for lunch on both days. There are several fast-food restaurants nearby or you may bring a sack lunch.
Also please bring with you …
Pencil or pen
Note pad
Calculator (not programmable nor a cell phone)
Picture ID for Sunday's testing session
Register by filling out the form below
---
**Before Registration, make sure you have a
FCC Federal Registration Number


(FRN)

 (

it is requi

red)

Don't have one? Don't Worry!
To acquire an FRN# click here & follow The FCC's online registration
Questions about getting your license and this weekend class?
Todd W9YK mobile – 630-921-9990  email – w9yk@arrl.net
Mark, KB9TVD – Volunteer Exam Coordinator
mobile 708-562-6027
email    kb9tvd@arrl.net